Updated On:
Long Term Survival Food Stockpiles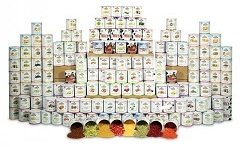 The Deluxe Four-Person One Year Food Storage Kit contains a selection of Augason Farms best selling products in a wide variety with notable nutritional values. There are 360 cans included in this kit that hold approximately 20,700 total servings with up to a 30 year shelf life (depending on the type of food). The average calories allotted per day, per person is approximately 1,290. Food is prepared by just adding water and can be eaten right from the can by just adding water. Foods included make breakfast, lunch and dinner as well as desserts and drinks. The variety of foods include staples such as eggs, milk, meats, grains, fruits and vegetables.
Smaller Survival Food Stockpiles
The 30 day food storage pail includes 307 meals that would feed one person for 30 days at approximately 1800 calories per day, or could be used to feed a family of four for one week. Foods include items such as Morning Moo's milk alternative, oatmeal and banana chips, soups and cheesy rice meals. The pail also includes a self-filtering water bottle, fuel disks, and meal planners. Items are packed in a watertight 7 gallon pail.
Bug Out Bag Survival Food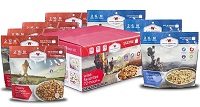 The Wise Food 72 hour backpacking food kit comes with eight8 pouches of food with two servings each. All you have to do is add boiling water to the pouch and you have your meal. The kit comes with 2 breakfast meals: Apple Cinnamon Cereal (270 calories per serving) and Strawberry Granola Crunch (270c). The lunch or dinner entrees include: Chili Mac with Beef (330c), Creamy Pasta with Chicken (240c), Cheesy Lasagna with Sausage (370c), Noodles with Beef (370c), Pasta Alfredo with Chicken (310c), and Teriyaki Chicken and Rice (310c). The food in this kit have a shelf life of 7 years opposed to the 20-25 shelf in long term food supply kits and pails. The pouches are also a very good choice for backpacking or backcountry camping trips.

Get 20% off + Free Shipping Sitewide at Wise Food Storage
Expires: Ongoing
Get 20% off + Free Shipping Sitewide at Wise Food Storage
Expires: Ongoing
50% Off Wise 3 Day Survival Kit + Free Shipping
Expires: Ongoing
50% Off Wise 3 Day Survival Kit + Free Shipping
Expires: Ongoing
WISE - 7% Off Your Order + Free Shipping On $400+ Order
Expires: Ongoing
WISE - 7% Off Your Order + Free Shipping On $400+ Order
Expires: Ongoing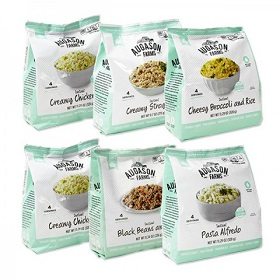 The Augason Farms Entrée Variety Pantry comes with six pouches of food of four servings each. The six pouches included are Creamy Chicken Rice (2 pouches)  (480 calories per serving), Cheesy Broccoli and Rice ( 350c) , Creamy Stroganoff (240c), Black Beans and Rice (170c), and Pasta Alfredo (340c).  Sealed these pouches have a shelf life of 10 years. Once opened they have a shelf life of one year.  To prepare, open the pouch and first remove the oxygen absorber and discard. Then add boiling water and let sit for 15 minutes. Not only are these kits good for a short-term survival pack of food, but you could also divide the contents up and use on a backpacking trips for a quick and easy meal.
About Long-Term Survival Foods
To be prepared for a survival situation you need to have an food on hand. The amount will depend on where you plan to set up your camp for survival which could be your home, bunker, cabin in the woods, boat, RV or simply a tent or other shelter. It is good to also have food for your bug-out bag in the event you need to travel to another location. If you have a bunker or a remote home you should create a stockpile of food for a survival situation should an apocalyptic event occurs. And depending on the size of that location you may have options to store large amounts of food that will last a long time. There are options available to suit whatever your needs are obviously depending on how much you want to spend. Many companies have long term food kits that can last for one to four people for up to a year. Or should you have less storage space available because you are on the go in an RV, boat or car there a smaller kits available for one to four people that will last several weeks or months. And lastly if you are packing your backpack and traveling by foot, options are available that are light weight and easy to prepare. Some of the quick and easy options for traveling by foot is developed for backpackers. The best food for backpackers are light weight, easy to prepare by just adding water and heating up on portable stove. I will review these various options below.
long term food stockpiles,
smaller food stockpiles,
bug out bag food
Long term food storage usually incorporates foods that have been freeze dried or dehydrated. Both processes involve removing water which keep the food from spoiling for a long period of time. Shelf life can vary based on the type of food but typically dehydrated foods have a shelf life of 20-25 years and freeze-dried foods have a shelf life of 25-30 years.
What makes dehydrated or freeze-dried foods a good option for long term food storage? )
Organisms such as bacteria, yeast and mold cause food to become spoiled but when water is removed bacteria and other microorganisms are not able to survive in the food. The lack of water also prevents naturally occurring enzymes from breaking down the food. Both dehydrating and freeze-drying have a positive side effect of reducing the weight of the food. Both processes have limited affects on the nutritional value of the food. The difference between to the two is that freeze drying can take a little bit more water out the food then dehydration thus increasing the shelf life and decreasing the weight of the food.
The process of freeze drying entails placing raw or cooked vegetables in a freeze-drying machine which freezes the food to approximately -40 degrees. The machine than creates a vacuum and slowly increases the temperature without thawing the food. As the food is gradually warmed, the water turns to vapor and evaporates out of the food. This process is called sublimation. The freeze dried food is then vacuum-sealed in a container such as a mylar pouch or can that is moisture and oxygen proof to ensure freshness until opened.
To dehydrate food the process simply involves using heat and dry air (humidity must be under 20%) to remove moisture from the food. This can be done at home using a dehydrator. Or if you live the southwest region of the US you can dehydrate food outside in the heat of the sun.