Updated On:
When choosing your weapon for survival for the apocalypse you may know right away what would be your weapon of choice. However, you will be able to pick the best one for you by first educating yourself on the options available, identifying which survival situation you are likely to be in, and then practicing with that weapon to confirm if its the right one for you.
There are four categories of weapons that a survivalist should choose from but ideally would have at least one of each. Your four weapons include:
Hand Guns
Long Guns
Knife
Bow and Arrows
Hand Guns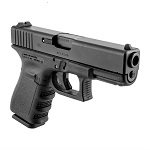 The Glock 19 is a very good choice for self defense and is relatively inexpensive. It typical weapon of choice for law enforcement and military. This weapon is easy to use and simple to take apart for cleaning. Parts are easy to find if you want to accessorize or buy replacement parts. The Glock 19 also has a trigger safety feature to avoid accidental discharge. This weapon takes 9mm bullets with a total capicity of 16 rounds when one round is chambered. The package comes with two 15 round magazines.
GLOCK – G19 G3 HANDGUN 9MM W/2 15-ROUND MAGAZINES : Brownell's $499.00


$10 off $100 at Brownells
Expires: Ongoing
$10 off $100 at Brownells
Expires: Ongoing
$60 off $475 at Brownells
Expires: Ongoing
$60 off $475 at Brownells
Expires: Ongoing
Long Guns
When we refer to a long gun in this article we are including both semiautomatic rifles and shotguns. The difference between the two are mainly the barrel and type of bullets used.  The barrel of  semiautomatic rifles have a grooved surface inside that causes the bullet to have a spiral spin, allowing for accuracy at a much longer range then shotguns. Shotgun barrels have a smooth interior surface and bullets come either in slug rounds or buckshot rounds. A Slug is a large dense bullet, about the size of a roll of nickles, whereas a buckshot is a cartage filled with many small lead or steel pellets. Slug rounds will be more precise at a distance. Buckshot is the usual chose for close distance and home defense – buckshot is less likely to go through walls and hit a neighbors house. Thus you are less likely to hurt someone in another room.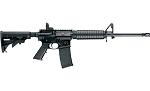 The Smith & Wesson M&P15 is a good choice for a rifle in that it is super easy to use. There isn't a big kickback like you feel in a shotgun. This rifle is available with a choice of a 10 round or 30 round magazine.
Smith & Wesson® M&P 15 Sport II : Cabela's $699.99

Free Shipping on $99 Min Purchases at Cabelas
Expires: 04/26/17
Free Shipping on $99 Min Purchases at Cabelas
Expires: 04/26/17
Knives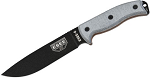 One of my favorite knives for survival is the ESEE-6® Fixed-Blade Knife by Rowen. This knife is very versatile as it can be used for defense, cutting wood, and for food preparation. It is also formidable in size, yet rests nicely against the side of your thigh in the included sheath. The blade has a very balanced feel in your hand and weighs 12 ounces.
The 1095 high-carbon steel blade is strong enough to split wood. The blade is textured powder coated with a special powder blend for added resistance to wear and corrosion.  The overall length is 11.75 inches. The blade length is 6.5 inches.  ESEE-6® Fixed-Blade Knife : Cabela's $159.99
Bow and Arrows
The favorite is obviously going to be the hand gun. Its small, easy to use, and can be conveniently carried on your person with various holster options. You can quickly pull it out and instantaneously change into a position of power when confronted with a threat.
A long gun, however, can deliver a much higher level of force being either a rifle or shot gun. Long guns are capable of taking out large game such as a moose or a bear, to humanely kill livestock, or take out a herd of zombies. Shot guns can be loaded with buck shot making a huge impact on any threat at a close distance or a slug round taking out large game at a longer distance. Rifles can be used at even longer ranges taking out targets over a 100 yards away, perfect for hunting game that easily spooked and hard to get near.
A knife on the other hand is the most versatile tool. It has the ability to be a weapon against a threat, cut and chop for bushwhacking or construction purposes, and used to prepare food. Personally I would rather have two knifes. One would be my tool/weapon and the other to prepare food.
Lastly, a bow and arrows as a weapon is almost silent and can pack a powerful punch from a distance. Using a bow as a hunting device makes it possible to hunt without alerting others to your location. Unlike a gun, with a bow and arrows you can hit your target and still be able to retrieve your arrows. Using a bow is also considered by some a more natural way to hunt and definitely takes more skill and practice then shooting most guns.